| | |
| --- | --- |
| | |
H17-P010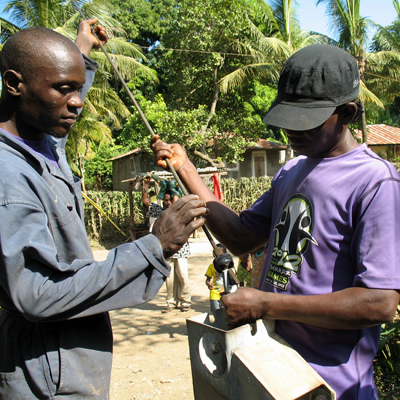 Repairing a pump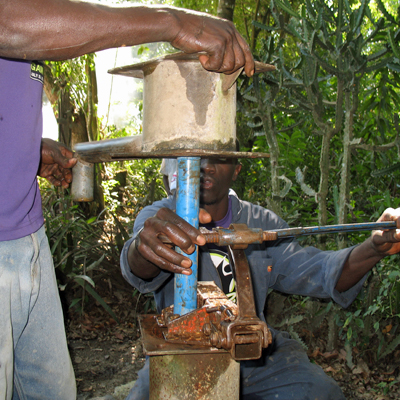 62 repairs completed
The People of Haiti thank

Shirley Christen (Edmonton, AB)
Paul and Elizabeth Karrow (Waterloo, ON)
For helping them repair dozens of broken pumps
during the month of April, 2017
Testimonial
Dear Sponsor,
On behalf of all the villages that received the gift of safe water flowing once again from their handpumps, I want to express their thanks. In every case, people were excited when we come into the village to assess and repair their pumps. Water that is safe to drink even when the rains come so hard is still a precious commodity. To prevent sickness and disease in these villages, the wells we repair are vital to their health.

Thank you for your support that allows us to go throughout the area and restore health and hope to so many.
Lifewater D'Haiti Pump Repair team
Project Summary
62 repairs were completed in the month of April, restoring safe water to villages in Cap Haitian, Balan, Plaine du Nord, Grison garde and Port Margot
Well Details
| | |
| --- | --- |
| Project Completed: 2017-04-30 | Well Depth: 0 ft. |
| Depth of Water: 0.00 ft. | Casing Diameter: 0.00 in. |
| Screen Length: 0.00 ft. | Developed By: |
| Development Time: | Well Yield: |
| Disinfection: | Handpump: |
| Water Colour: | Water Odour: |
| Turbidity: | Taste: |
| Nitrate: | Bacti Test: |
| Iron: | pH: |

Every $1 you give provides a child with safe water for a year!
457 Heather Crescent
Thunder Bay, ON P7E 5L1
Canada
Tel:
+1 807-622-4848
Email:
info@lifewater.ca

Copyright © 2018. All rights reserved.