Appendix N
LS-100 Mud Rotary Drill Rig

---
The LS-100 is the first fully MAN PORTABLE rotary drilling machine designed to drill 6 inch diameter boreholes to depths equal to & greater then 100 feet.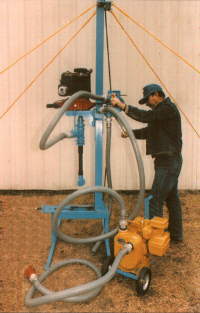 The LS-100 is presently being used in 25 countries around the world to expedite relief efforts and provide clean drinking water in drought stricken areas. Because of its unique design and simple parts, the LS-100 has many advantages including that it:
weighs 850 lbs and can be easily taken apart and carried or transported by pick-up truck, trailer or animal to areas inaccessible to larger rigs.
is capable of being assembled in minutes (see Appendix P)

is easy to maintain (see Appendix Q)

can be operated by 1 person with minimal Training.

As detailed in Appendix O, Key Components of the LS-100 include:
Heavy duty drill frame designed for easy transport with removable drilling table with slips and stabilizer bars: acts as structural support for drilling equipment
Power head: the drill pipe (1.25 inch dia.) and drill bit are rotated by a 5-HP Gas or 4.5-HP Diesel engine with a 25:1 gear reduction transmission and a centrifugal clutch. Power head breaks-away for quick access to bore hole
2,500 lb Brake Winch with Hoist and Pull Down Capability
Water entry swivel: used to channel drilling fluid down the rotating drill pipe
3-Way Industrial Fluid Ball Valve and quick disconnect hoses
Drill pipe: hollow, strengthened steel pipe with heat-treated thread connections that channels drilling mud down to the bit.
Drill bits: the cutting tool attached to the end of the drill pipe that allows the drill to bore a hole through soil and rock (see Drill bits.
Also needed is a mud pump (5-HP Gas or 4.5-HP Diesel engine drives a 2-inch Monarch pump) to circulate mud down the drill bit and back up to mud pits. Without this separate piece of equipment, the drill rig cannot be used for conventional "Mud Rotary" Drilling.
Click Here for Detailed LS100, LS150 and LS200
Information, Prices, Weights & Dimensions



Choose Another Well Construction Module: