| | |
| --- | --- |
| | |
L16-E005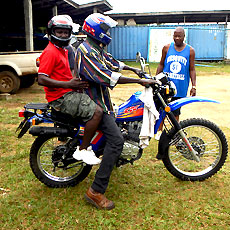 Safety In The Ride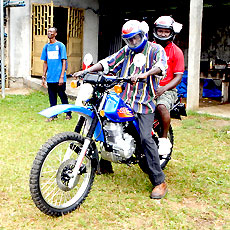 Taxi Please
The drill team in Liberia thank

Sierk Rupke (Barrie, ON)
''In memory of Hilda Rupke''
Okke and Nita Bouwma (Calgary, ON)
For building their capacity with Motorcycle for L-Linc Compound Secu
Testimonial
Dear Sir, We needed a motorcycle for the security guards to be able to pick up and drop off the women and girls coming home after dark, from school or from work. Yesterday a 13 and 15 year old girls walking on the now deserted road, were ordered into a black jeep that pulled up beside them. They managed to run to the compound because they were not too far from home, so it ended up OK. We don't want there to be a next time. Now the women can call the security guard, he'll be able to take this new motorcycle to pick them up from the corner, which is well lit and a safe bus stop. It will also be a cost effective vehicle to pick up small parts, do small pump repair work and well assessments We would like to express our deepest thanks for this new motorcycle and thank you for the quick purchase to solve a seriously dangerous issue that is coming to our understanding . Lifewater Security Team and Lifewater Liberia families.
Project Summary

Every $1 you give provides a child with safe water for a year!
457 Heather Crescent
Thunder Bay, ON P7E 5L1
Canada
Tel:
+1 807-622-4848
Email:
info@lifewater.ca

Copyright © 2018. All rights reserved.