Strong belief in Lifewater's goals prompts BC couple to become monthly donors
Anne DeGrace has always believed clean water is a fundamental and essential human right. So when she learned about Lifewater Canada and its mission to provide safe, accessible water to people in Africa and Haiti who desperately need it, she and her husband became one-time donors and then monthly donors.
"An article in the Globe and Mail newspaper many years ago talked about the best bang-for-your-buck in Canadian charities, and I was impressed with Lifewater's very low administration costs as well as the practical no-nonsense approach to providing this basic human right," Anne recalls.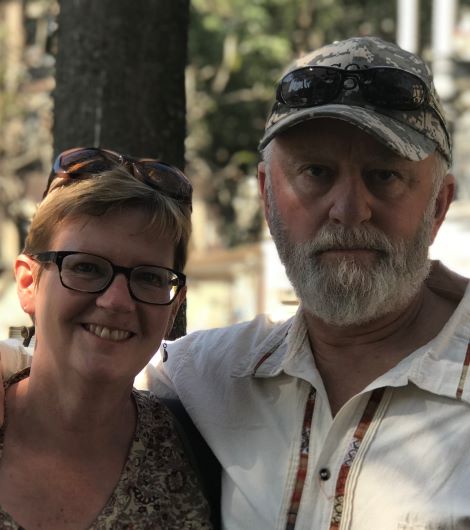 She and her husband Phillip Jackson have become monthly donors to Lifewater because "it's Canadian, it has very low overhead, and it does excellent work," Anne says. "I like the humble quality of the organization: keeping things simple so as to put the maximum into the actual charitable work."
Phillip adds: "I like how the efforts and money in this organization go directly to the (water) projects. I know there has to be some administrative costs and overhead but Lifewater Canada is rated highly for low administration and overhead. I like, too, how feasible the projects are. I can personally fund a specific well for a specific village. I have done two in addition to monthly donations. It is very 'doable.'"
Soon after learning about Lifewater, Anne and Phillip created a regular giving plan that would be sustainable with their income. The couple is strongly committed because "by drilling simple, easily maintained wells and sanitation projects, Lifewater helps to build community resilience and capacity, and by including communities in the process, it encourages pride and ownership," Anne says.
She recently retired after 32 years with Nelson Public Library. The author of four novels, she is also a professional editor. Anne has also been a Lifewater volunteer – helping founder Jim Gehrels (who died of a heart attack in July 2020) write some of the organization's newsletters and other materials. She says she learned a lot in the process.
"I came to understand how clean water can improve the lives of girls, because having a nearby well enables them to attend school rather than spend hours every day walking long distances to fetch water. I learned access to clean water creates more resilient families with greater opportunities, and it improves overall health and well-being for subsequent generations. It's more than water; it's a better future."
Philip worked for many years as a public health inspector. In his 20s, he travelled to developing countries where safe drinking water wasn't available and this made a big impression on him, especially after becoming very ill with hepatitis and dysentery
"I'm a fan of properly constructed wells as a source of safe drinking water," Phillip says. "When I saw what the Lifewater Canada people were doing, I recognized that as something that truly benefited many poor people in the world. I have great respect for the Lifewater team and volunteers who do this work."