"I encourage everyone to consider Lifewater when planning their giving to a charity," says Karl VanHeyst.
His first donation to Lifewater Canada – and his efforts to volunteer with the organization – stemmed from an article in a newsletter for Ontario Public Service (OPS) employees.
The 2011 article profiled Lifewater Canada founder Jim Gehrels and his passion for providing safe water to people in the developing world who desperately need it.
Karl and Jim were both OPS employees at that time. Karl was amazed by the fact that even as Jim was going blind due to a degenerative eye disease, he remained fully committed to travelling to Africa and Haiti to drill new wells, rehabilitate aging wells, repair handpumps, install rainwater catchment systems, build latrines and hand-washing stations, and provide vital health and hygiene training.
"I was impressed with Jim, with how many lives a single good well can help, and with how a well can change a whole community or village for the better," Karl recalls.
The next step in growing his commitment to the organization was in October 2012 when Karl paid his own way to Liberia to help repair some of Lifewater's well drilling equipment and install a septic field. He worked alongside Jim Gehrels and his wife Lynda.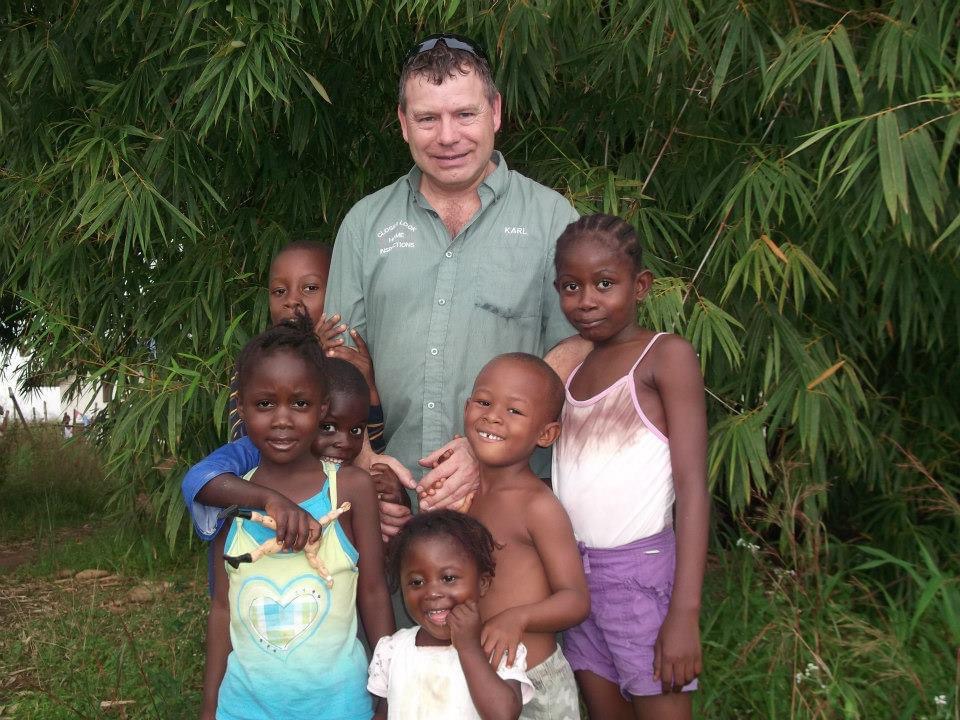 Karl contracted malaria on that trip – and so he advises others to continue taking their anti-malarial medications after they return home! ("Oops! I didn't do that," he jokes now). Karl was so sick from two malarial strains that he nearly died, and spent five days in ICU as part of his recovery.
Shortly afterward, in the spring of 2013, Karl married Dr. Karen Bailey. Within months, he was planning when he could volunteer with Lifewater again.
The next time was February 2014. Karl went to Liberia to help with the drilling rigs while Karen, a medical doctor, came to lead health and hygiene workshops for women and children in the villages.
"A community or village must have safe, accessible drinking water to live," says Karl, in explaining why he and Karen were willing to take the risk of going to a developing country again.
"So many children are dying daily because they don't have safe drinking water. Also, many young girls don't have the opportunity to go to school because they have to haul water back to villages on a daily basis when safe water is not accessible in the villages."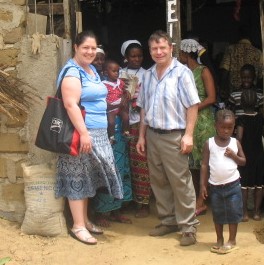 Karl and Karen began providing regular financial support to Lifewater and also started volunteering their time by reviewing the monthly status reports from Liberia to help ensure that everyone's donations are spent as cost-effectively as possible.
"We are impressed with how efficiently Lifewater is operated and that it is mainly based on volunteers," Karl says. "This charity has very low operating costs [averaging about 6% annually] compared to other charities."
The Ontario couple remain very committed to Lifewater, knowing that Jim Gehrels died of a heart attack in July 2020 and Lynda Gehrels has replaced him as the organization's unpaid president.
"Any amount of donation makes a difference," says Karl, in encouraging people to donate to Lifewater. "Even $5 towards a well can change a person's whole life – whether they live or die. A good well can sustain an entire village for decades."